Behind the Design:
Everything You Need to Know About Dynamos
The start of a new year is the ideal time to start planning those riding adventure plans. While locations such as the Alps and Girona are always at the top of our list, bikepacking has now become more integrated into our riding getaways. When it's time to head out the door with your bike loaded with bags on a multi-day route, there are a few wheelsets we reach for and a common feature between these options is a dynamo hub.

A dynamo hub is a small electric generator built into the hub to power common devices such as lights and even phones and GPS. Surprisingly, the Dynamo has been around since the 1930s and has since become more and more sophisticated and efficient to enable riders to charge small devices like GPS' or even phones.

Converting mechanical energy generated by riding to electrical energy, bands of copper wire rotate between the poles of magnets - for us less tech types, this means, once you ride you will start to generate electrical power. The trade-off is a very slight induced drag, but this can be surprisingly low if you choose the right dynamo hub.

We have chosen to partner with the world's leading dynamo hub specialist, SON which hand manufacture in Germany and have a dynamo system with 20% lower drag ideal for fast drop bar bikes for your serious commute and bike-pack adventure. With incredibly low rolling resistance in the SON Delux Dynamo at just 4.6 watts (at 12mph when powering the USE REVO light at 800 lumen output) and very low weight the SON Delux is not exactly low cost but it is THE best... When the light is switched off there is just 0.4 watts resistance, that is comparable to the low resistance of many sealed bearing hubs!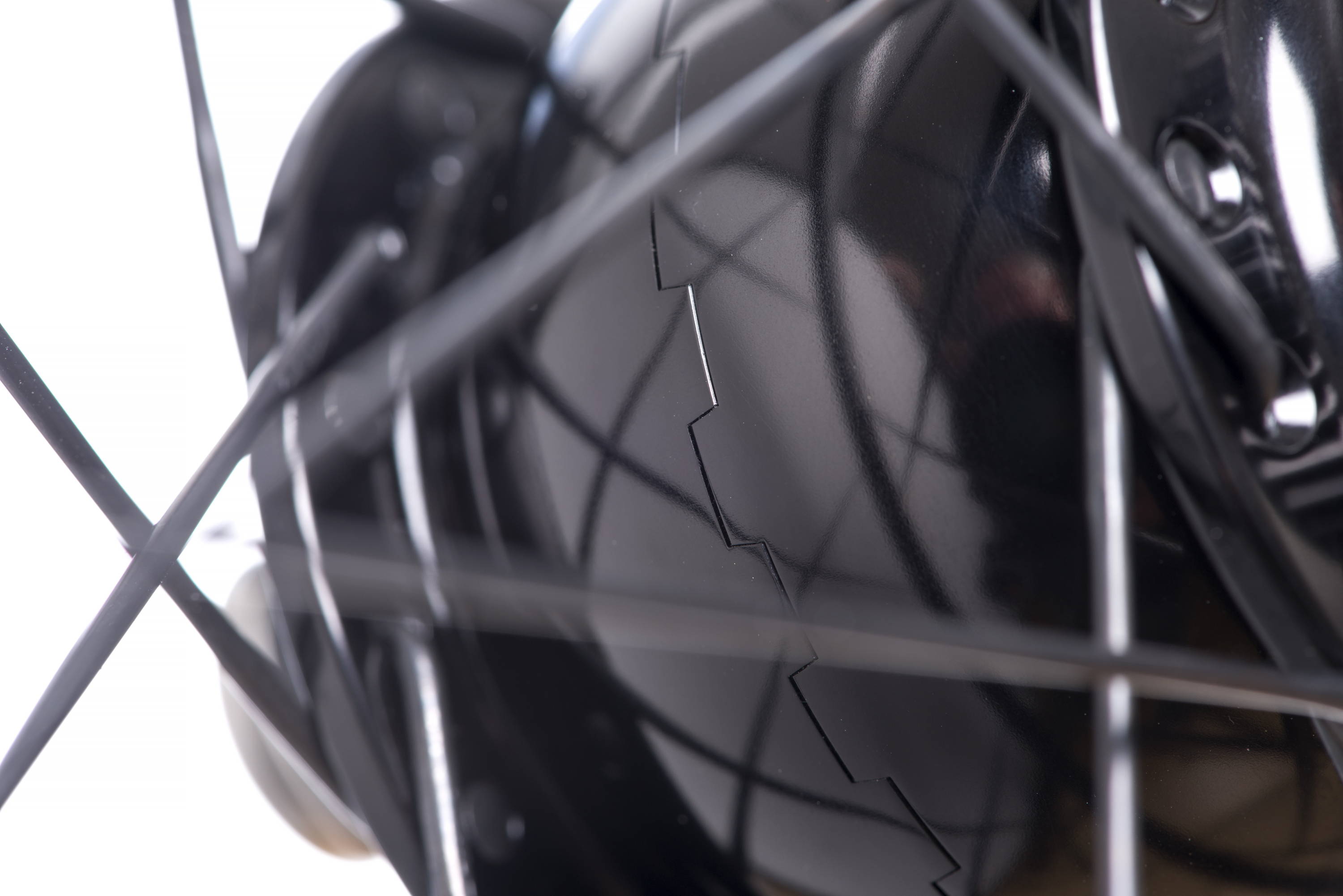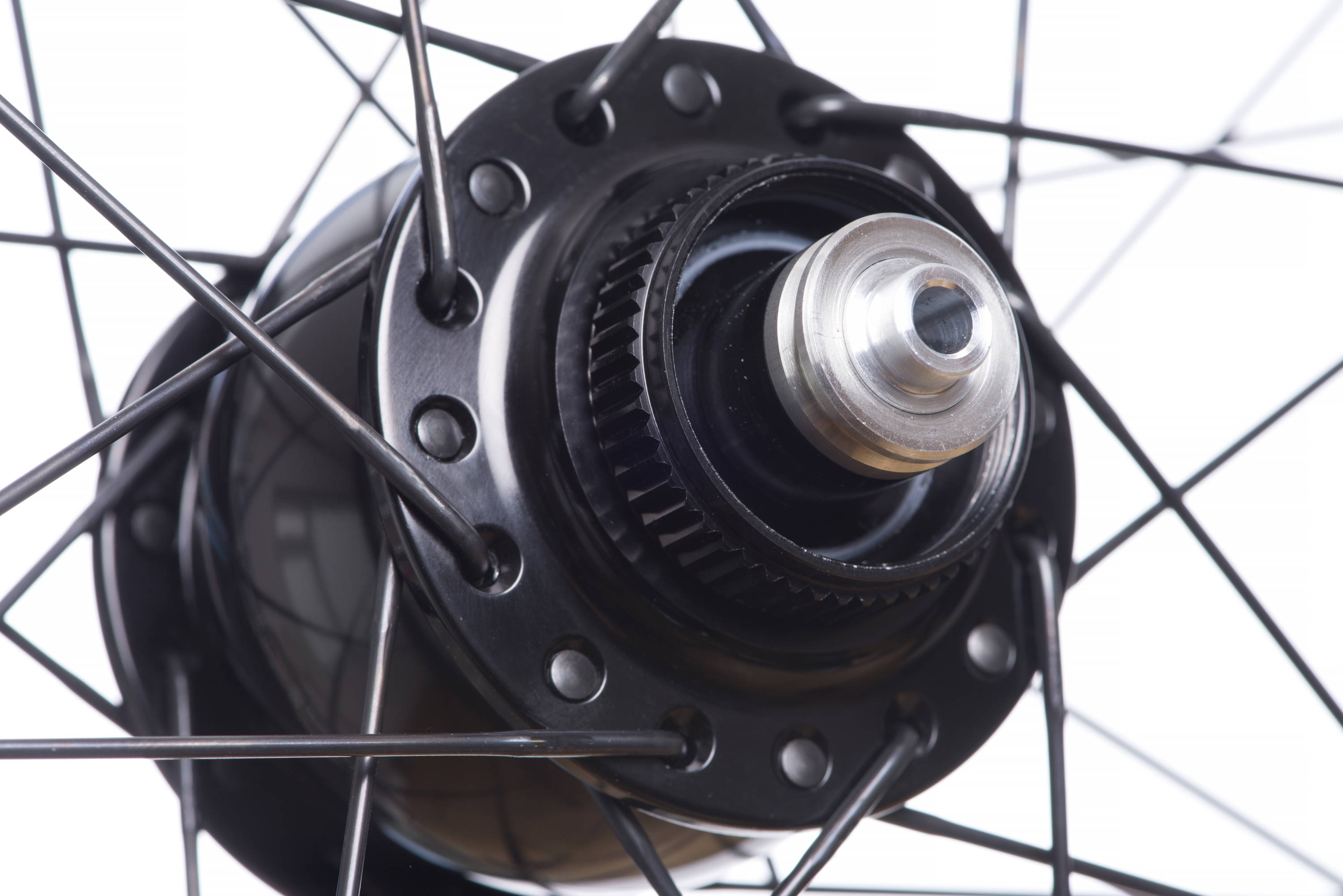 The Never-ending battle: Drag vs Efficiency

Much like the search for the most aero rim shape or the perfect balance of spoke tension, when it comes to Dynamos there are two words which push the design of dynamos: efficiency and drag.

For a dynamo to be efficient, it means it is able to generate more electricity off less power. For instance, the SONDelux Dynamo selected on our 700C SuperDura Dynamo disc and its smaller sibling, the 650B AdventureSport Dynamo disc wheels, produces a 3 watt / 6 volt output at 18-19kmh (~11-12mph) creating a potential 800 lumens on the Exposure Revo light. This sits at the pinnacle end of Dynamo efficiency (see graph below).

Now enter Drag. Drag here refers to rolling resistance. Typically thought of as an issue dealt only with tyres or bearings, a dynamo hub will most often induce an slight increased drag/rolling resistance over its standard wheel counterparts due to the magnets and rotating copper essentially working (all be it in a small way) against your efforts. Thankfully, SON realised that by using a smaller/lighter generator in their SONDelux Hub, they could reduce drag by an impressive 20% and still achieve the same 3 watt / 6 volt output with the faster speeds on drop bar bikes.

Even at 10mph, you will get upwards of 500 lumens from an Exposure Revo light and it has stand light capacitor to provide bright lighting long after you stop pedaling. For all the details about the Exposure, Revo Dynamo light click here. Here is a comparison between common options. The lower the line the more efficient the system. HUNT uses the SONDelux in all Dynamo Wheelsets. The lower the line the more efficient the system. HUNT uses the SONDelux in all Dynamo Wheelsets.
This alone was enough to consider that the SONDelux was a perfect match for our go anywhere and do anything, AdventureSport style wheels. The final result is a front hub which tips the scales at 395g which means once it is built into a wheelset for a complete front and rear, 700C set up a sub 1950g wheelset can be made.

You need these wheels to be able to perform even in the harshest conditions, day-in-day-out. there was one final piece to the puzzle - durability. Two things are going to cause a dynamo to wear out. Firstly, general use like any wheel. Secondly, heat built up.

This calls for a massive BIKE NERD ALERT. All dynamos heat slightly during operation and then cool, the cooling of air in the hub body of most dynamo hubs can cause lowering air pressure inside the hub. This lower air pressure can lead to the suction of water through the bearing seals significantly reducing the life of hub bearings.

The SON Pressure Compensation System, as used in the SuperDura and AdventureSport wheels, allows air pressure to be equalized, thus extending bearing life to a leg ending 50,000-100,000kms. In our mind, that is known as a very long way. The tube (shown below) is long enough that any water induced into the hub doesn't reach the end. When the dynamo heats up again air pressure increases and any air and water is forced back out of the axle end of the tube preventing damage.
We offer a full range of Dynamo lights, so you can forget about charging your lights on your daily commute or charging your GPS device on those multi-day backpacking trips or races. But how do you use a Dynamo wheelset to run your lights and charge your devices?
HUNT Beyond Brand Manager Josh Ibbett talks you through the Dynamo setup that he used on the 2600mile Tour Divide in the USA. Watch the video to find out more...
Browse our collections of Dynamo wheels now: