Xavier Chiriboga : Patience, Resilience & Tenacity

Beyond rider Xavier Chiriboga recently finished third in the Arkansas High Country Race, but the eagle-eyed amongst you may have noticed a peculiar addition to his setup - a Gatorade bottle propping up his head!
The race starts and finishes in Hot Springs and loops 1040 miles around Arkansas with nearly 84000ft of climbing and terrain ranging from smooth gravel to technical singletrack in a 50/50 split between paved and unpaved surfaces in a "route that don't go nowhere – it just runs around everywhere" according to route designer Chuck Campbell. Although new to ultra-cycling, Xavier is an experienced Adventure Racer and finished the route in a total of 128 hours with just 6 hours sleeping time.
He was sitting in second place with around 300 miles left to ride when he was hit by the onset of Shermer's Neck, an unusual and debilitating condition that exclusively affects long-distance cyclists. Shermer's Neck is a weakening of the neck muscles causing the rider to lose the ability to support their head and keep it upright. There is no known cure apart from rest, but Xavier wasn't going to quit easily. It was time for some ingenuity, and his Gatorade head support was born. A plastic bottle flipped upside down and taped to the chest strap of his hydration pack was enough to provide a rest for his chin to help keep his head up and continue his ride. Although he dropped back from second place, he kept riding to his podium finish.
We caught up with Xavier after the race to hear about the experience.
The course Chuck Campbell made is just incredible, Mountains, technical ascents and descents, smooth gravel through National Parks, beautiful trails, miles of forests, farmland and wilderness.
 Starting the race, it's always good fun, and I was full of adrenaline. On the first day I rode with Abe and Cory, riding fast and following the pack. I stopped to refuel and we separated, this is where my navigation issues started. I was on battery save mode so I was having a hard time at the turnings and got lost on a big climb up Magazine Mountain, frustrated and with the cold of the night I was struggling with motivation. 
On day two I managed to change the settings on my GPX device and hoped it would solve my problem but I still had trouble. I later learnt that the issue was that I hadn't split the GPX files into smaller parts so the one large file I was running meant the navigation was inaccurate, a lesson learnt for next time!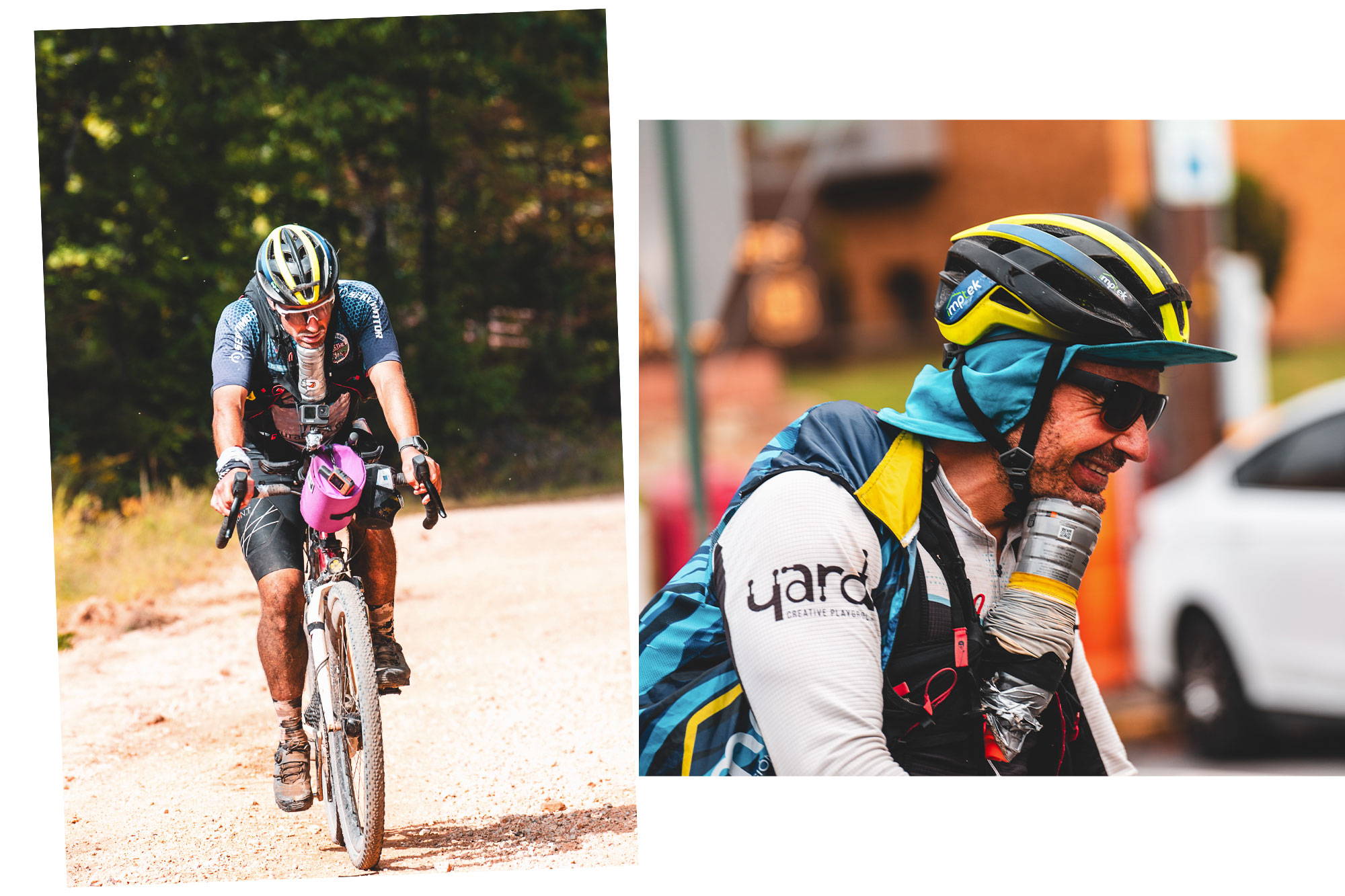 Day 3 was when Shermer's Neck appeared, it was the first time in my life I had ever experienced this and I didn't know what was happening. My neck just couldn't hold the weight of my head. I almost scratched but I fought through that feeling and managed to strap a bottle of Gatorade to support my neck until the next town, I was in a lot of pain but it worked so I decided to continue like that. Progress was getting more and more slow because every 20 minutes I had to stop to stretch my neck, and any action like putting on a jacket was a time consuming job because I had to readjust my neck support bottle.
Patience, Resilience and Tenacity was the summary of this adventure.  
It is difficult for me to travel from Equador with a bike, so I borrowed from Jackalope Cycles, the Slow Southern Steel gravel bike was amazing, I've never had the chance to ride such a reliable bike, The Carbon HUNT wheels were outstanding; so fast and comfortable, they really smoothed the gravel and it was my first time with a dynamo hub. It's a must right now. I was able to have endless light and was able to charge everything while riding. Perfect for me because I only stop to sleep in places that didn't have electricity. I'm so motivated for my next races and will have many more stories to share.
Xavier will be lining up for the start of the Across Andes ultra-race in Chile on November 19th alongside fellow HUNT Beyond rider Cynthia Frazier.
Shop CARBON GRAVEL RACE wheels
Shop CARBON GRAVEL RACE wheels